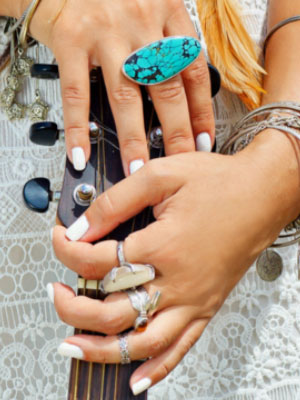 As the seasons change, we tend to get tired of the older pieces we've been wearing day in and day out. New, statement-making jewellery is the perfect way to breathe some new life into your look–from big, bold earrings to layered necklaces and, perhaps most surprisingly, the return of the brooch.
You can always rely on contemporary jewellery to add flair and interest to any outfit. Take a look at what's expected to be hot and happening this 2018.
1. Anklets
Anklets are back, baby. Before you write this trend off as an atrocity best left in the past–we encourage you to keep an open mind. 2018's anklets are perfectly suited to our grown-up selves. Think dainty chains finished off with a pearl or metallic beads. See our anklet selection.
2. Asymmetry
Asymmetrical baubles are hot right now–from necklaces that dangle slightly askew to mismatched earrings. While the latter may sound hard to pull off without looking a little crazed–think again.
The New York Times deemed matching "uncool." And for good reason. The norm has long been matching sets, twin earrings rather than complimentary friends.

3. Long, Long Earrings
It seems like every year there's a new take on extravagant earrings. This year, keep an eye out for shoulder-grazing statement earrings complete with tassels, beads, and beyond.
And the bigger, the better is definitely true here. Our favorite versions of this trend are complete with unique textures–if you're going to make a statement, say it loud and proud.
4. Updated Pearls
The new takes on pearls aren't for clutching. We've seen plenty of pearl adorned dresses, shoes, and more as of late, but we're more excited about the contemporary jewelry comeback of this lunching ladies' staple.
Break free from your style rut and explore pearls in a whole new way. A single pearl on an anklet or pendant is a nice way to add interest to a simple chain, while one pearl earring can play the straight man to a wild piece on the other ear.

5. Layered Necklaces
Say goodbye to chokers and look the other way toward the layered necklace. This trend is a mashup of a delicate chain that fits like a choker, with longer chains hanging down.
Delicate and simple works best, especially when multiple chains come into play, but feel free to adorn with charms and stones for some added personality.

6. Pinky Rings
Include more fingers in your existing ring party. Midi rings have been big for quite some time, but pinky rings have been conspicuously left out for quite some time.
Tiny gold or brass rings look super cute on the smallest finger and add the finishing touch to a handful of finger jewelry. Shake the negative connotations of yesteryear and get on board–it's an easy, modern way to enhance your jewelry game.

7. Brooches and Pendants
Brooches are back–and it's a long time coming. While they might not be the piece of contemporary jewelry you expected in 2018, we welcome the resurgence. No longer the grandma bauble relegated to the back of the jewelry box, the younger set is getting on board with this bejeweled jacket topper.
The stodgy reputation of the brooch seems a little unfair, and it seems tastemakers are finally back on board with this easy way to upgrade a plain collar, lapel, or hat.

8. Plastic and Enamel
What goes around comes around–those staples of the 80's, acrylic hoops and enamel-enhanced pendants–they're all back again. Lest you worry about looking like a child playing dress-up–stick to one statement piece at a time and avoid super bright colors.
Instead, look toward clear lucite, tortoiseshell, or black and white.

9. Button Earrings
It's not just you, there's definitely a pattern at play–most of these trends have something to do with making your earlobes a focal point. Button earrings have been laying low in church sale bargain bins for the past few decades, but these face-framing studs are the perfect way to add some color to a minimalist ensemble.

10. Vintage
This latest iteration of the vintage jewelry trend covers both actual old-school gems and the vintage-inspired. Like most of the other entries on the list, the comeback pieces are going to be of the big and bold variety.