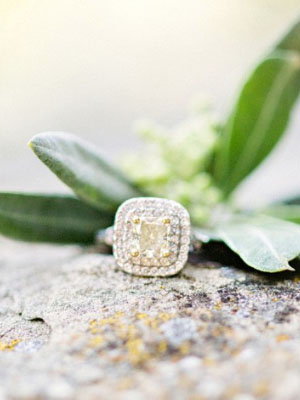 Shape Matters Most
Even before those 4 Cs (cut, color, clarity, and carat), you must know what shape your future fiancee loves. Shape indicates the actual geometry of the stone, as opposed to cut, which relates to the angles of the facets in the stone.
Settings Are Second
A quality setting — the metal framework in which your stone is mounted — can set the tone for a ring. A classic round engagement ring stone gets a fresh and modern makeover in a bezel setting. A trendy oval can look more traditional in a four-prong setting. Getting the right combo of shape and setting is key.
Spy on Her Style
The trend these days is for couples to ring-shop together, but if you're more of a traditionalist and looking to surprise her with a ring she'll love, be sure to do some reconnaissance. You can ask her best friend or sibling for help — and swear them to secrecy. But if you're set on not telling anyone, pay attention to the jewellery she wears. Is she more of a platinum/silver girl than a yellow-gold one? Does she gravitate to vintage jewels as opposed to simple, classic pieces? Watch her for a couple of weeks and take mental notes to size up her style.
Consider the Metal
When it comes to the band, you've got a variety of metals to choose from. One popular choice is platinum — it's extremely durable and especially pure, making it a great hypoallergenic choice for brides and grooms with sensitive skin. There's also gold, which comes in a variety colors, including white, yellow, rose, and even green. Beyond platinum and gold, you might also consider palladium (which has a grayer hue than platinum) or even a recycled metal band, which might include a mixture of platinum and gold. Think of it as a "something old" and "something new" all rolled into one.
Work Your Budget Well
Throw out that old two-months salary myth; You should buy the best ring you can without going into major debt. If she's a size queen and your budget isn't super-sized, go for a ring with a slightly larger table, or surface, area. You won't get as much sparkle, but a one-carat ring will look much larger if the stone isn't as deep. Don't want to sacrifice the look of your stone? Buying just shy of the next carat (1.8 instead of 2) can equal a savings of nearly 20 percent. And when it comes to clarity, buying shy gives you the most wiggle room without affecting sparkle (often defects are not visible to the naked eye).