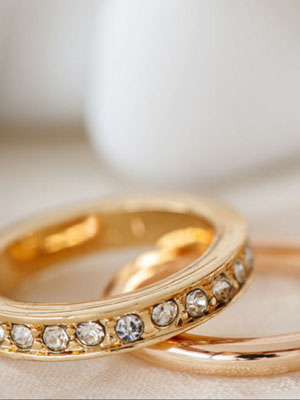 It's hard not to fall in love with a new piece of jewellery when it's so dang sparkly. It doesn't take very long for the sparkle to fade, however, when you're wearing a piece on a regular basis — or even if it's just sitting in your jewellery box.
It's totally possible to shine up your own jewellery with common cleaning supplies most of us already have at home. Sometimes soap and water (and maybe ammonia and aluminum foil) are enough to get a grungy ring or bracelet looking totally brand new again.
Just remember: Methods using chemicals or other harsh and abrasive cleaners are not recommended for soft stones like opals and pearls. Use soap and water only. You can fancy up the rest of your jewels with one of these hacks.
Ammonia
That diamond isn't going to keep its sparkle all on its own. Soak diamond jewellery in a solution of 1 cup warm water and 1/4 cup ammonia for about 15 minutes, then use a soft-bristled toothbrush to scrub away any remaining grime, especially in the crevices of the setting and underneath the diamond.
Vinegar
Cleaning your gold and gemstone jewellery couldn't be easier with white vinegar. Simply drop the jewelry into a jar of vinegar and let sit for 10 to 15 minutes, agitating occasionally. Remove and scrub with a soft-bristled toothbrush, if necessary.
Alternatively pop into Blue Crane Replacements.