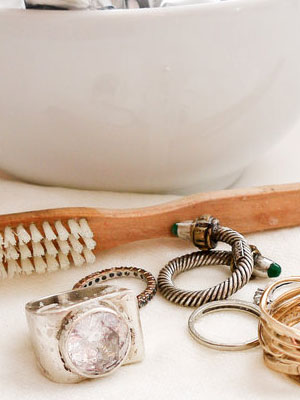 So you have bought or been given, a beautiful piece of jewellery. And you love to wear it of course! But after a while, all jewellery becomes slightly less sparkly. Do you need to rush to your local jeweller for a scrub or…?
Well, the answer is no. Although your local jeweller might be happy to see you and if he or she delivers very good customer care; they might even clean it for free!
Special Cloths
But if you prefer, it can be easily done at home. There are some special cloths available, probably your jeweler will have them too, that contain a chemical that cleans your jewellery. This is great to wipe off quickly dirt and add sparkle to golden and silver jewelry. Be careful to not ever use this on pearls!
Damp cloth or toothbrush?
You can also take a damp cloth or a very soft toothbrush and some lukewarm water with soap (dishwasher soap will do). You can either emerge the jewel or just use it for the brush or cloth. Just softly rub it and dirt will come off. Make sure you dry it with a very soft cloth (scratches should be avoided!) and leave to dry completely before putting it on.
Gemstones
Now there are some things to remember. If you have valuable gemstones like rubies, emeralds and sapphire, be very careful. They are not as hard as the precious metal and not as hard as diamond. Always ask your jeweler for advice how to store and clean your jewelry. But the best way is to wear it with care and never keep it on whilst cleaning with chemicals, swimming or sports. Also, you should think about getting a good box to store away your jewelry. It might be a little bit of a hassle to think about taking your jewellery off, but you will prevent a lot of common problems that jewelers see when people come to them with damaged jewelry.
Your jeweller
Most jewelers have an ultrasound cleaning method. These practically shake off all dirt and afterwards they (might) use a box of very soft sawdust to dry your jewel. The only thing to watch carefully here is stones. If some of your settings are a bit loose, a stone might fall out. Discuss this, of course, with your jeweler. Check the jewelry together to avoid discussing afterwards.
How to keep your jewellery in perfect condition?
There are a few tips:
Do take rings off when you do your gardening or housekeeping for example.
Don't wear it when you go to practice sport.
Store it in a dry and soft place.
Choose rhodium plated silver jewelry. It won't become black!
Clean rings underneath regularly.
One last tip!
And I always recommend: take off your jewellery when you go to sleep!